About the Barter Art Project

When suspended in the weightlessness of a float pod, your body relaxes deeply while your brain slows down and enters theta state. Here, your mind becomes a blank canvas for visions, memories, and dreams. Trading floats for art, we're telling the stories of creatives and their journeys into inner space.
~
From a young age, Kiat has indulged his love of science fiction, music and art. Today, his creative pursuits extend from an award-winning design career, to being a driving force in the electronic dance music scene as a DJ, producer, and co-founder of local music collectives such as Guerilla and Syndicate.
In this month's Barter Art feature, Kiat experiments with the ancient art of Japanese marbling. Suminigashi, aptly translated to "floating ink", is the process of marbling plain paper with water to create intricate, flowing patterns.
What are you creating these days?
I'm just constantly trying to create a positive mindset in these times .. hah!
On a serious note though, I'm working on a few projects geared towards completion for the year's end. Some of them include an art exhibition, community projects, some design projects and of course more music in the pipeline both on my personal front as well as stuff for the Syndicate label which I can't wait to share when the time comes. Other than that, I'm just experimenting with some print techniques using traditional media.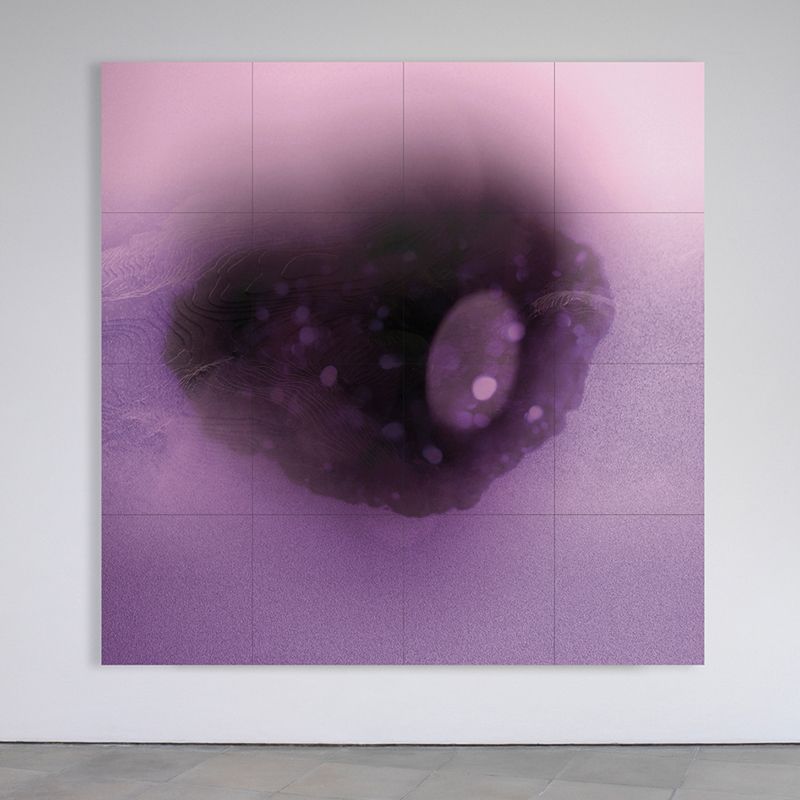 I.A.M. (2014) – part of an exhibition featuring 8 artists, inspired by 8 songs, each from Singapore musicians. Proceeds went towards the Autism Association of Singapore
"I've chosen "I.A.M." by Octover as it represents a future devoid of true raw human emotion where we have become so integrated with our machines that we have already started to lose ourselves in the quest for technological advance. Whenever I hear this tune, it also transports me to a smoky intergalactic subterranean lounge where beings from other worlds and dimensions gather to relax. No words are exchanged in these places, only thoughts." –Kiat, on his 'I.A.M.' artwork
Describe your creative style.
Most, if not all of my work relies on gut feel. I do also try to give myself some limitations within the creation process before I begin as I feel that this pushes me to utilise a lot more of my resources allocated both material and mental. I really love the idea of unfamiliarity, of not being sure and slightly afraid in a good way.. I think this tells me I'm out of my comfort zone which is great…no point recreating the familiar.
"I wanted to rework the original cover by The Designers Republic as it was a time in my life where the music and the art collided in a way that made sense to me. For my version, I created an image using photography and printed it on fabric which was individually wrapped around 16 vinyl sleeves containing 16 records from my youth that spans all genres from disco to unreleased drum and bass tunes."
Tell us more about the artwork you've created, inspired by your float. 
It explores the idea of flowing within our minds through all the layers of thoughts, both conscious and subconscious.
Furotingu (2017)
"The work itself is left intentionally in a unfinished state, much like life itself. This is not to say that there is more to be done, but it is a statement of contentment that I've felt at that stage of the process."
For those so inclined, here's a video example of the suminigashi process. 
Share something you did recently that you're proud of.
I've just started a little garden out the back of my home where a spiral staircase to the roof resides. It's also my little sanctuary of sorts from the world and my meditation spot of course. It's a nice little area as I get the cool morning breezes and if timing allows, the sunset rays as it flows into the home.. the best time of the day for me if I get to experience it. I'm hoping to get more plants and flowers to create a little hideaway where I can be surrounded by flora in time to come.